Type: 4+1, size: 68 m2, with 2 bedrooms.
Type: 2, size: 38 m2, with 1 bedroom, a kitchen with living room and a bathroom.
Type: 4+1, size: 68 m2, with 2 bedroom, a kitchen with living room, which has 1 extra bed. a bathroom, and a beautiful covered terrace.
Type: 5+1, size 90 m2, with 3 bedrooms, a bathroom, toilet, kitchen, dining room, a living room with 1bed.Apartment with sea view and view at the Greeting to the Sun and the Sea Organ.
Type: 2+1, size 32 m2, with 1 bedroom,kitchen with dining room and bathroom.
Welcome!
Somewhere between reality and imagination. Illuminated by the sun and surrounded by thesea in the city of Zadar on the peninsula Puntamika is where the Villa Anabella is located. Separated from the city noise and protected by silence and tranquility, offering you a perfect place for rest and a quick escape from reality. A magical view where the sun immerses into the crystal clear sea with a range of bright colors, leaving an indelible mark on the sunset as if it had been arranged for a special occasion. Film director Alfred Hitchcok didn't remain immune to the magic of the sunset. While driking Maraschino and blowing out the smoke of his Habanos on the Zadar waterfront he said: "This must be the most beautiful sunset in the world!" The pine forest gives protection from the sun, and the naturally protected deep draft provides a safe haven for every boater.
Villa Anabella
If you would like to wake up to the sound of the sea and the first thing in you do in the morning is to walk to the beach, drink morning coffee in a cozy armchair on one of our terraces, our apartments are ideal for you.
Located only 200 meters from Villa Anabella on our three sides of the world, you can choose between sandy, pebble and concrete beaches which every day provide the most beautiful sunset that merges with the endless blue.
Villa Anabella is located in the peaceful area of Zadar (Puntamika) 4 kilometers from the center, which makes it an ideal location for a peaceful vacation. Three sides of the world surrounded by the sea only 200 meters away and within easy reach with all necessary facilities of the city. Every guest is provided with free parking, unlimited Wi-Fi and air conditioning.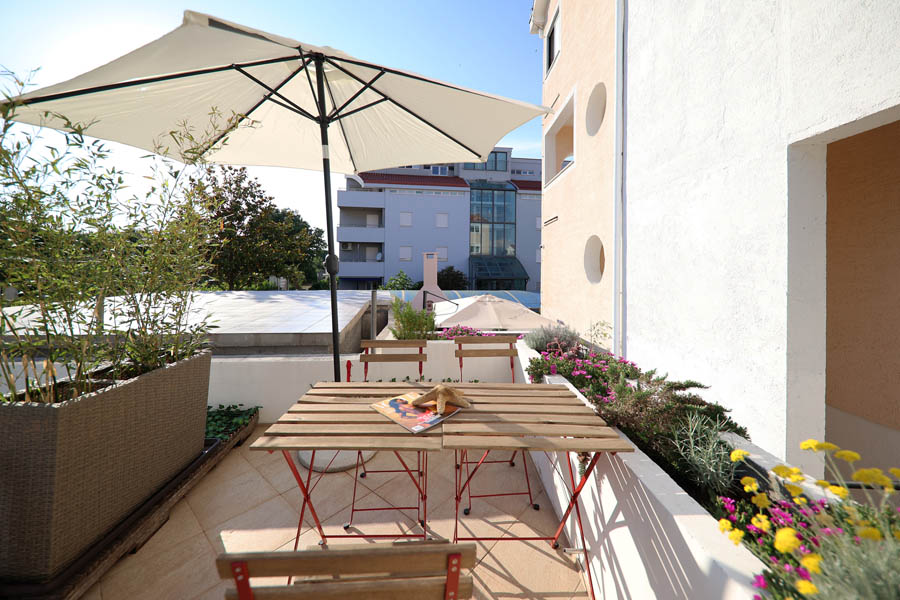 Apartments
Villa Anabella has four apartments: Barba, Berekin, Bjonda and Muškardin. The ideal starting point to feel Zadar means to experience it with all of your senses – to walk along the monumental witnesses of its ancient past and the remnants of time, to soak up its day and night rhythms in narrow streets and spacious squares, and then relax in some of the many colorful cafés catching the Mediterranean rhythm and the Dalmatian "fjaka". Zadar is even more than that.
Zadar
Perfectly and to the last drop clean sea, whose intoxicating salinity is an inexhaustible and vital source of life energy, is gently paired with Foša and the coast of Zadar and its ambient walls from the UNESCO World Heritage List. On one part of that coast, when a light wind from the south blows, or an aromatic and refreshing summer mistral like rosemary soap, the bathed coast gently sings in his honor, reflecting the sun's reflection on the surface of the sea. And while the Sea Organ, a widely known modern stepped installation on the coast, plays to the rhythm of that undulating ecstasy, the astronomical and calendar Greeting to the Sun dances with its light greeting travelers and those who look jealously at this unusual sight.
Zadar is a city whose past dates back at least three thousand years. The first stone, says the poet, was laid by the legendary Jason with his Argonauts. Since then, the mermaids have been singing about a city on the sea that is called like the sea. Zadar is an Adriatic pearl whose name doesn't fade over time.
GREETING TO THE SUN and SEA ORGAN
GREETING TO THE SUN
This contemporary installation is made of 300 multi-layered glass solar panels in the shape of a circle of a 22-meter diameter. The Greeting to the Sun in the immediate proximity of the Sea Organ.
SEA ORGAN
A unique blend of architecture and music…
The sounds that are produced are a result of the release of sea energy, or rather waves and tides.
70 meters of the waterfront, below which are 35 pipes of various lengths, diameters, and slopes have been installed. When the sunset illuminates the waterfront, the game of lights by the Greeting to the Sun accompanies the rhythm of the waves and the sounds of the Sea Organ.
Kalelarga
The main city street, the heart, the cultural space and the symbol of the town.
official name – Široka street, sung countless times, has its own anthem and is a place of serious gossip and news, and a place to welcome great sporting successes.
Cathedral of St. Anastasia
First, take a scoop of the best ice cream in Zadar – Donat Confectionery – you have to try this, and take a peek at the cathedral from the 12th century, which has a richly decorated facade and an impressive three-nave interior. On the altar in the left apse is a marble sarcophagus with relics of St. Anastasia. The glass lobby allows you to peek inside even when the cathedral is closed.
Varoš
A symbol of the new Zadar, narrow streets imbued with the atmosphere of life
which radiates pleasure. A place of ritual encounters, endless chats and festivities.
City walls
On the UNESCO World Heritage List since 2017.
The land gate was built in 1543. and still exudes the same mystique and awe, and along the walls is a small port of Foša, which is an indispensable promenade for tourists.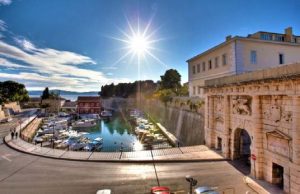 The forum
Founded by the first Roman emperor Gaius Julius Caesar Octavian, the main gathering place of Roman soldiers, religious people, officials of the Republic and then the Empire, as well as merchants and all the people of Zadar. The promenade is unavoidable and is one of the symbols of the city.
Petar Zoranić Square
Famous Renaissance poet and novelist, today a place of entertainment, events and manifestations.
Riva (waterfront)
For a pleasant walk and a view of the islands and the sea, with a beautiful place to watch the sunset.
National Parks and Nature Parks
propreté, arrivée autonome, place de parking et logement super bien équipé
🙂 beautiful apartment near the beach very clean and modern, had everything you needed for a comfortable stay host was lovely and accommodating

Nema komentara u ovoj recenziji
El apto es bonito, la zona es tranquila, totalmente recomendable!

Apartament is very close to the beach. There is also bus stop nearby so its easy to get to Zadar center. Inside of apartament was very clean and fully equipped kitchen.

Apartamento reformado y muy grande.

La proprietaria è stata molto gentile. L'appartamento è arredato con gusto e pulitissimo. I letti comodi. Assolutamente consigliabile!
Widok z okna. Wspólna przestrze? na posi?ki. Lokalizacja obiektu. Przepi?kna okolica. Kontakt z gospodyni? bezproblemowy.

Größe und Ausstattung sowie Blick aufs Meer

Größe des Apartments Gute Lage zum Meer.
We booked the 7 bed apartment and it was absolutely gorgeous. It was spacious and actually better than expected, which is quite rare if you think about it... It looks modern and clean, AC in all but one room, and you could see the sea in most of the windows. Cooking and baking also an option. The owner (or whoever welcomed us) is very friendly and helpful. The location is excellent if you want to go to a beach. The city centre is a bit far away on foot though, so if you wanna go there I would recommend taking one of the e-scooters which are close to the apartment. You don't have to bother with the parking and it is fun anyway.

Ubytovanie nemalo chybu . Nadherne .??

Ci siamo trovati benissimo ana è super cordiale e amichevole, appartamento grande , moderno e pulito

The flat is very well equipped, very close to the beach. We received all help if we had questions. It is a great place with children as well.

Lijepo uredno ?isto Bas smo se odlicno proveli.

Nema komentara u ovoj recenziji

Jako pristupacna i draga domaćica, apartman predivan, plaža blizu
The host was very nice, there was no problem with checking in late after midnight and leaving the suitcases in her place after check out. The apartment was very clean and comfortable really close to the beaches ??

Wszystko ??

Wonderful appartment, clean, big, close to the beach

Nema komentara u ovoj recenziji

Nema komentara u ovoj recenziji

Sve..Prelijep apartman, super lokacija, domacin predobar. Preporucamo se opet definitivno. Najbolji ostanak do sada
This apartment was nice and clean. Close to the nicest beach in Zadar and 4,5 km to the city centre. For me Puntamika is the best area. The host was really nice and helpful (Thank you Anna!). There is also barbecue you can use.
Claudia-gabbriela
2021-07-13
The apartment is very clean, spacious, has a large terrace and is equipped with absolutely everything you need, also the kitchen is fully equiped. Nearby are restaurants and a supermarket. Borik Beach is a 10-minute ( maximum) walk. You can easily reach the old city by bus (the station is very close) or by Uber, the distance to the center is about 4 km. Everything was great for us and we can't wait to come back :).
We liked everything, the location is perfect because you have the historic center just a few minutes away, the beautiful apartment with many amenities, comfortable beds and a nice terrace, excellent restaurants and bars in the area and also many supermarkets, fantastic beaches a few steps from distance, the barbecue at your disposal where you can prepare incredible barbecues, and the hostess always ready to help and suggest good food in the area, apart from being very kind and friendly, in fact when we came to Croatia due to the traffic in border crossings we had a delay of almost 06 hours arriving at the accommodation after midnight and she received us with a warm smile and welcome, 1000% recommended, we will return: D
Anabella was very friendly and gave us useful tips. We also could do BBQ which was very nice. Cold water was waiting for us upon arrival 🙂
Nema komentara u ovoj recenziji

Odli?an apartman, sve pohvale, jako sam zadovoljna 🙂

Nema komentara u ovoj recenziji

Kada smo stigli, gospo?a Anabella nas je lijepo primila i pustila unutra prije dogovorenog vremena. Smještaj je uredan i ?ist te je ispunio naša o?ekivanja.

Nema komentara u ovoj recenziji
Ubytování bylo kousek od pláže a obchodu s potravinami. Personál ochotný, kuchy? byla skv?lé vybavená. Soukromé parkovišt? hned p?ed domem zdarma.

Die Lage war sehr gut, nah am Strände, Restaurant, Bar. Sauber und gemütlich.

Quiet, villa neighborhood, close to beaches — a few minutes walk to Putnamika and Borik. We've had a car and it was a 5–10 min drive to the old town. The apartment was large, with a nice terrace. The kitchen is well equipped, so you can have breakfasts/dinner on the terrace. We've had a great time and we'd definitely stay again.

Amazing, huge apartament, freshly renovated. Good location, just few steps from the sea. The city center also accesible by foot. This was the best apartament that we rented in Dalmatia!

Bardzo mi?a W?a?cicielka - poradzi?a co zwiedzi?, gdzie zje?? itd. Czysto?? super, apartament ?adnie urz?dzony, ?ó?ka wygodne - wszystko na mega du?y plus! ??

Es hat alles gepasst, moderne Einrichtung, sehr sauber und dazu noch eine super liebe Gastgeberin
Very nice, comfortable and clean apartment whit big terrace . The owner is really friendly and easy to communicate with. Quoit place, near to the 3 beach.I would recommend this accomodation to everyone !

Newly renovated or rebuilt, I am not sure, fully equipped, spotless - it was a pleasure to come back to after a day in the sun or on the boat. Location does not look impressive on the map but it's a 5 min walk from the marina and adjecent beach, the area is quiet at night. Highly recommended.
The lady who owns the apartments was extremely nice and helpful and she was full of joy. The room we got was enormous and it was also very clean and sanitized which meant a lot to us regarding the pandemic.
Nema komentara u ovoj recenziji

Very big appartement with balcony at a 10 minute drive from city center. Everything is new and clean. Very nice stay over here with a good beach nearby.
Cazarea a fost foarte spatioasa(living, bucatatie, dormitor, balcon), bucataria foarte bine echipata - multumim limonadei de bun venit??- foarte curat si ingrijit, cu atentie la detalii. In jur plaja era cu pietris, mai mare sau mai mic- aproximativ la 3 min de mers pe jos. Te puteai odihni foarte bine-era liniste fiind un cartier de vile in jur.

Nema komentara u ovoj recenziji
Nema komentara u ovoj recenziji
Nema komentara u ovoj recenziji
Nema komentara u ovoj recenziji
Apartment is very spacious, nicely furnished and comfortable. Beach is beautiful and close to apartment. And Old Town is a couple of minutes drive. All in all it's very beautiful and would recommend to anyone.
Great location near beach. We had a wonderful stay. Place is very spacious and cosy. We had all necessary amenities. There's supermarket and restaurants are nearby. Highly recommended.